Quality Assurance
Waiotapu Thermal Wonderland is committed to providing an enjoyable experience to all visitors in a safe manner. We strive to improve this experience for our visitors by being a member of, or part of, a variety of Tourism Industry associations and initiatives. This assists us to continually review our business and operational practices to continually improve the experience and safety for all.
As we have a footprint in both the Bay of Plenty and Waikato regions, we work closely with the Rotorua Lakes Council and the Waikato Regional Council to ensure compliance which includes water quality, geothermal conservation and adhering to the Scenic Reserves Act.
Tourism New Zealand and Destination Rotorua keep us up to date with any industry changes that could influence visitors to Rotorua and New Zealand.
Qualmark Gold Sustainable Tourism Business Award

Qualmark is the official quality assurance rating of Tourism New Zealand. When you see a business displaying Qualmark and its rating it is your way of knowing the quality of your travel experiences.
Waiotapu Thermal Wonderland is proud to be ranked in the GOLD class of Qualmark's ranking.
A Gold Award recognises the best sustainable tourism businesses in New Zealand, with the delivery of exceptional customer experiences an integral part of everything they do. A Gold Sustainable Tourism Award identifies those businesses leading the way in making the New Zealand tourism industry a world class sustainable visitor destination.
A Qualmark assessor visits our site annually to assess our safety practices, customer experience, systems and processes to ensure we deliver the best possible safe experience to all of our visitors.
Tiaki Promise

Aotearoa (New Zealand) is our precious home. Everyone who lives in and travels here, has a responsibility to look after it. The Tiaki Promise is a commitment to care for land, sea and nature, for now and for future generations , treading lightly and leaving no trace.
While travelling in New Zealand we ask you to follow the Tiaki Promise, acting as a guardian to protect and preserve our home. Help us Toitū Aotearoa (care for New Zealand).
Waiotapu Thermal Wonderland supports the Tiaki Promise encouraging everyone to travel safely and to show care and consideration for all. Camp responsibly, stay safe outdoors, respect our culture, travel with an open heart and mind and take care of oneself and others.
Tourism Industry Association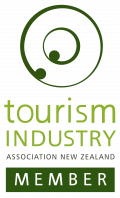 Waiotapu Thermal Wonderland is proud to be a member of Tourism Industry Aotearoa (TIA), supporting their goal to make sustainability a genuine ethical underpinning of the tourism industry so that sustainability becomes a core value against which all decisions are tested.
Being a member of TIA means that at Waiotapu Thermal Wonderland we have made a conscious commitment to protect and enhance the environment we share, ensuring that our customers have an outstanding experience, and that we maintain and enhance support from local communities.
Tourism Export Council

The Tourism Export Council of New Zealand (TECNZ) is a trade association established to support members to achieve sustainable growth.
As an Allied Member of TECNZ, we can build and develop relationships with other credible businesses in the Tourism Industry as well as learn more ways to maximise our potential.
Tourism Sustainability Commitment

New Zealand Tourism Sustainability commitment aims to see every New Zealand tourism business committed to sustainability by 2025.
Waiotapu Thermal Wonderland is very proud to say it is a part of this inspirational sustainability journey by adopting the 14 commitments that will ensure the 8 industry goals are achieved.
Rotorua Sustainable Tourism Charter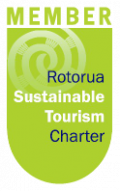 We are members of The Rotorua Sustainable Tourism Charter, an organisation committed to the promotion of sustainability that enhances the health, wellbeing and education of our Rotorua community.